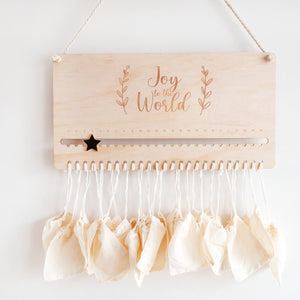 Advent Calendar
Regular price $80.00 Sale
Made especially for our Well Versed Homes collection, this Advent calendar is used to count the days of Advent in anticipation of the best season of the year - Christmas - the birth of Jesus Christ. 
Our calendar features a star that can be moved from day to day until you reach day 25. Parents can include their choice of item in the individual drawstring bags such as a small chocolate, toy, gift, note or bible verse for each day of the countdown calendar.
The wood is lasered and engraved with the edges rounded for children.
Height - 20.8cm
Length - 40cm
More information:
Made from natural plywood timber with 25 cotton bags, string and acrylic star. All items are handcrafted and each piece has its individual and unique wood grain characteristics, thus no two pieces will be exactly the same.