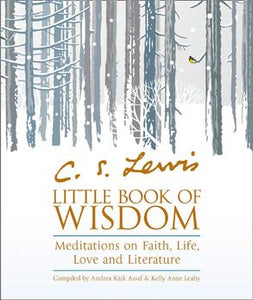 Little Book of Wisdom - C S Lewis
Regular price $20.00 Sale
C. S. Lewis' Little Book of Wisdom offers more than 300 bite-size nuggets of inspiration and wisdom from the much-loved author, philosopher, and Christian theologist.
Novelist, poet, critic, scholar, and best-selling author of the Narnia series, C.S. Lewis was a deep thinker and a beautiful writer. His works have become timeless classics for adults and children around the world. Here, in one concise and inspirational volume, is the essence of Lewis' thought. This distillation of his feelings on subjects ranging from love and faith, to ethics and morality, to myth and literature will throw open the windows of the soul from one of the best-loved writers of the 20th century.
This lovely little gift book will provide sustenance, wisdom, and hope for believers, seekers, artists and thinkers. It will provide an entry point for those unfamiliar with Lewis' thought; an entry point that will make them want to further explore his works of fiction and non-fiction.
Paperback. 400 pages