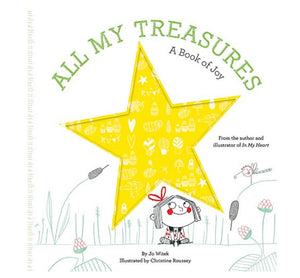 All My Treasures by Christine Roussey
Regular price $24.00 Sale
From the creators of the bestselling In My Heart comes a picture book exploration of happiness and the true nature of joy.
When a girl receives a beautiful porcelain box from her grandmother, she immediately wants something special to put inside it. But what could it be? What does she love best?
She loves jumping in puddles on rainy days, blowing bubbles in the park, and watching her little sister's first steps. As it turns out, life's most precious treasures cannot be contained in a box!
With a gentle message about the immateriality of happiness, this story reminds us to take pleasure in everyday moments. The book is beautifully packaged with a sparkly die-cut star on the cover, and flaps throughout reveal hidden surprises. The Growing Hearts series celebrates the milestones of a toddler's emotional development, from conquering fears and expressing feelings to welcoming a new sibling.
Hardback.  32 pages