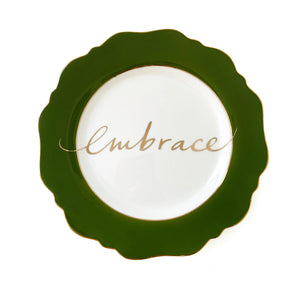 'Embrace' side plate (olive green)
Regular price $69.95 Sale
Embrace the unexpected and see what life throws at you. Go all in and learn safely, wisely, and calmly. You can do it and may surprise yourself.
This statement piece matches well with other side plates from our 'Inspiration and Affirmations' range intended to lift your spirits on any occasion. 
Hand-painted twice with green glaze, fired 5 times overall, and also trimmed in 24-carat gold, this plate is has been created with utmost care and attention.
A note on sizing: These side plates are oversized – at 22.8cm diameter, they are perfect for use as an entrée plate or a small dinner plate.  
22.8cm | 9 inches. Hand-painted on new fine china. 

To keep your 'Embrace' Moss Green side plate in perfect condition we recommend hand washing in warm soapy water and drying with a soft cloth. Not suitable for use in microwave or convection ovens. Not dishwasher safe.