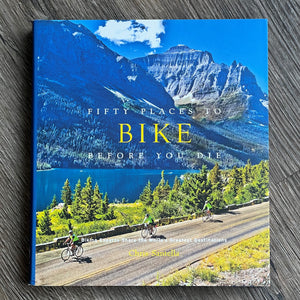 Fifty Place to Bike Before You Die
Regular price $40.00 Sale
In the ninth addition to his bestselling "Fifty Places" series, author Chris Santella is back at it again, this time exploring the world on bikes.
Biking has grown increasingly popular in recent years, as both a leisure and extreme exercise activity and Chris cover trips for cyclists of every level.
Fifty Places to Bike covers environments as varied as the Dalmatian Coast in Croatia, the Tour de Tuli through Botswana, and the urban jungle of New York City. With a healthy mix of international and national locations, the fifty chapters capture breathtaking vistas cyclists will enjoy around the world. As always the places are brought to life with more than 40 stunning colour photographs.
Hardback.  224 pages.