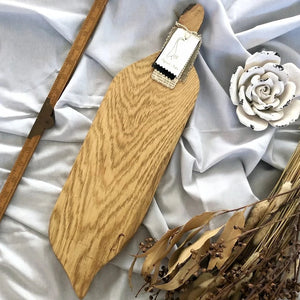 Leaf serving board (oak)
Regular price $70.00 Sale
Handmade by local 'besties', this chopping/serving board is expertly hand-crafted into a unique shape and finished in food-safe oils. Great for daily use, entertaining, or a beautiful display in your kitchen.  It is made of Oak.
480mm long x 120mm wide x 20mm high
To get the most of your board, please look after it carefully.
Wash before the first use with warm soapy water, rinse and fully dry.
We recommend a deeper clean once very 6 months.  To do this, sprinkle some sea salt on the board and rub with half a cut lemon.  Repeat on the other side and rinse thoroughly.  When the board is completely dry, rub a teaspoon of coconut oil* into both sides, then wipe off the residue and let dry for 6 hours.
*coconut oil leave no residual scent and is water resistant.
Please do not place your board in the dishwasher as this may cause it to crack and dry out.