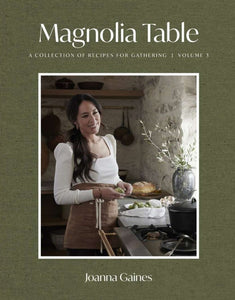 Magnolia Table - A Collection of Recipes for Gathering
Regular price $55.00 Sale
OMG ... we are so excited to have a new book from the amazing Joanna Gaines!
Joanna Gaines—cofounder of Magnolia, cook and host of Magnolia Table with Joanna Gaines, and New York Times bestselling author—brings us her third cookbook filled with timeless and nostalgic recipes—now reimagined—for today's home cook. 
Whether it's in the making, the gathering, or the tasting of something truly delicious, this collection of recipes from Magnolia Table, Volume 3 is an invitation to savor every moment. In Joanna's first cookbook, the #1 New York Times bestselling Magnolia Table, she introduced readers to her favourite passed-down family recipes. For her second cookbook, Magnolia Table, Volume 2, she pushed herself beyond her comfort zone to develop new recipes for her family. In this, her third cookbook, Joanna shares the recipes—old and new—that she's enjoyed the most over the years. The result is a cookbook filled with recipes that are timeless, creative, and delicious! Just as in her past books, within each recipe Joanna speaks to the reader, explaining why she likes a recipe, what inspired her to create it in the first place, and how she prefers to serve it. The book is beautifully photographed and filled with dishes you will want to bring into your own home, including:
Honey Butter Layered Biscuit Bites
Bananas Foster Pancakes
Brussels Sprout Gruyére Gratin
White Chicken Alfredo Lasagna
Garlic Shrimp over Parmesan Risotto
Peanut Butter Pie
Brownie Cookies
Hardback 352 pages.