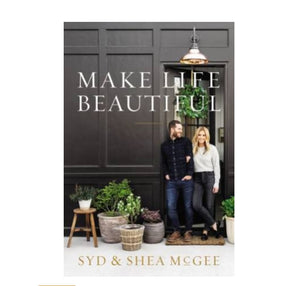 Make Life Beautiful
Regular price $40.00 Sale
For the millions of followers who turn to Syd and Shea McGee for advice on building a beautiful home and life, Make Life Beautiful is a behind-the scenes look into how the couple transformed Shea's small room of fabric samples and big dreams of becoming a designer, into one of the most successful and fastert-growing inteior design business in the USA.
Both longtime and new fans will not only gain insight into how the McGees built such a succesful compnay but also be inspired to apply design princiles to their lives, not just thier homes.
Build a life that is authentically you by employing simple but powerful principles.
Also know for the Netflix series, Dream Home Makeover. 
Hardback. 224 pages.