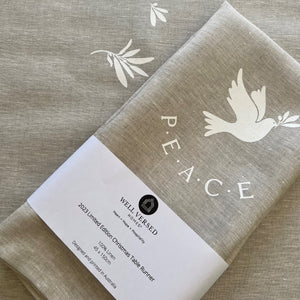 Table Runner - Peace
Regular price $59.95 Sale
Limited Edition 2023 Christmas Table Runner - 100% natural linen tea towel printed with white Peace of Earth text, dove and sprigs of olive branch.  
When we commenced the design process for the WVH Christmas 2023 range last August, of course we had no idea that our world would be in need of peace more than ever.  I couldn't think of a better theme for this year's range and it is certainly humbling to see how our little brand is bringing love and hope to so many -  as you adorn your home and share gifts this Christmas.
Our linen table runner features the word 'PEACE' at each end and a beautiful garland of olive springs along the centre, between the words and dove. Packaged with a belly band ready for gifting too.
Printed in Australia.  Exclusive Well Versed Homes design.
100% Linen
45 x 150cm