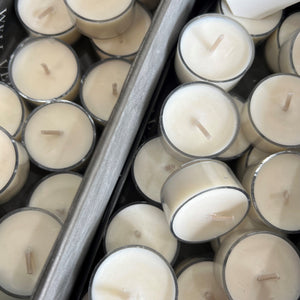 Winter Tea Lights Loose
This year we have a range of four fragrances for Winter:
Butterscotch Pudding - Just like Grannies pudding! Deliciously rich butterscotch, sweet cream and maple syrup finished with a subtle hint of vanilla.
Hot Chocolate Fudge - Rich, decadent and creamy hot chocolate, with hazelnut, vanilla, buttermilk, malt and hints of caramel.
Sweet Marshmallow -The sweet scent of gooey marshmallow, with hints of musk, vanilla and jasmine.
Winter Nights by the Fire - Like a warm roaring fire with bold woody notes of sandalwood and patchouli, spicy cinnamon and clove and hints of floral.
Select from our Tea Light Bar in store or online.
Made in New South Wales. Each tea light has several hours of burn.
$2 each.